January 13, 2019
Prelude in Colour—an Exhibition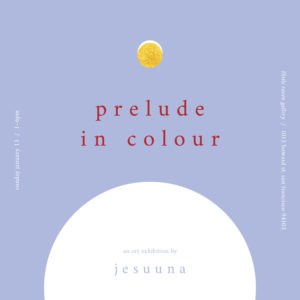 This exhibition will showcase new works from the RUD AIR artist residency in Sweden, a few old and beloved works, and never before seen photographs. The space is intimate, tucked away in a nice gallery in the city, and will be a time to get to enjoy each other's company and celebrate both life, love, and art.
The show will be from 1-6pm, with wine, a bit of food, and lots of love. This show will contain mature themes and is not kid-friendly. Feel free to invite anyone and everyone!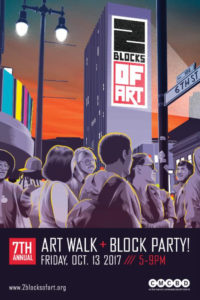 ART

| FOOD | LIVE PERFORMERS | PROJECTION

ART

PREMIERE
Friday, October 13, 2017
5-9 PM
6th Street, SF (Market>Howard)
The 7th Annual 2 BLOCKS OF ART art walk and block party is scheduled Friday, October 13th, 2017 from 5 to 9 p.m. As with the six previous years, this free event will bring over 75 artists in some 25 locations on two blocks, 6th Street from Market to Howard Streets. The art walk will feature a range of art exhibits and live performances in galleries, bars, restaurants, a laundromat, coffee shops and a number of other storefronts.
This viewing area will allow 2 Blocks of Art attendees to enjoy the lighting art projection from 7 to 9 p.m
, and will feature a stage for musical performances.
2 Blocks of Art will also bring 'Sketch the Block' back for a 2nd year. Co-produced with Sketchpad Gallery, this one-night sketch con hosts artists in the fields of visual concept, comic books, and video games, offering affordable and accessible art to all.
The Central Market Community Benefit District is the lead organizer of
2
Blocks
of
Art
, which is made possible by
our 2017 sponsors
including Title sponsors SOMA Community Stabilization Fund, Urban Solutions, Masterpiece sponsor Mikkel Svane, Gallery sponsors Blick
Art
Materials, Stage 1075, Portrait sponsors Kilroy Realty Corporation, Shivshakti Foundation and other generous contributors to our 2017 event.
The Marvegos Fine Art School's annual staff exhibit  March 4!